I have eaten my fair share of pastries, and I can say without a doubt that the baked goods from Klaudia are among my favorite and are continually in great demand from my two young daughters. E. Andersen


I have used Chef Klaudia's services for many years. She offers wonderful suggestions so that our event is custom-created for our needs. I have a special dietary need; I never worry about this. I can trust Klaudia to prepare foods that accommodate my dietary issues. Whether she prepares hors d'oeuvres, an entrée, soup, or dessert, she always adds her personal signature of perfection to each order. C. Evans


The food Klaudia prepares is always the freshest and is prepared in unique, interesting ways suited to every palate. Her table presentation is lovely, and she is as gracious a host as she is an accomplished chef. An occasion to eat Chef Klaudia's food is an occasion to appreciate and remember with pleasure.
A. Sheffield


I have worked for Klaudia in her restaurant for many years, and I have seen her outstanding work up close. Food was always made from fresh ingredients, looked great and had a, unique taste. Customers were constantly raving about her food and many of them kept coming back for their favorites. D. Vranova

Chef Klaud prepares memorable food with her passion for blending unique flavors into every dish. S. Mander & N. Flaherty


My guests and I had a wonderful food experience when Chef Klaudia catered a "Grand Opening" celebration. The food was excellent and visually picture perfect. G. Ge



orge


Chef Klaud's food is great!!
She catered our son's birthday party, and everyone raved about the fresh and tasty food!!
I love sweets, and Klaudia's desserts, cakes and cookies are delicious! W. Pietrini




"Klaudia's culinary passion and creativity is so exceptional, you can 'taste'



it!"S.Ch



ovanec






"We've had several parties that Klaudia has catered and each one seems to 'outdo' the other! Her food, preparation and presentation had our guests more than pleasantly suprised. Thanks, Klaudia, for making our events something special." K. Chovanec


Powered by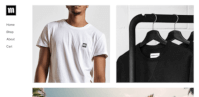 Create your own unique website with customizable templates.